A show floor full of prospects. A glimmering booth with enough charm and sparkle to draw the eye. Friendly, hardworking salespeople bringing in strangers and turning out leads. An ROI that sends you straight to work planning for your next trade show. This dream of a trade show is where we all start when we're planning our next event.
But this scene might be a little more familiar to some.
A credit card bill for plane tickets. A rental fee for a booth. Hotel suites for your top salespeople (plus a week without them at the office). An ROI that you need a microscope to see. The emoji that looks like a stack of money with wings.
If you're marketing your company at trade shows, you're spending a lot to do it. But is it really worth it?
Trade shows cost a lot of money, even if you're doing them "on the cheap." The fees for a booth rental alone at some of the top manufacturing trade shows can add up to thousands of dollars. Add in the cost of travel, hotels, food, swag, and lost hours of productivity and you end up with a huge bill that might be hard to swallow.
On top of that, too often what you find at your office the Monday after a big show is a few exhausted (and/or hungover) employees, a big bill from AmEx and not a ton of leads.
So what gives?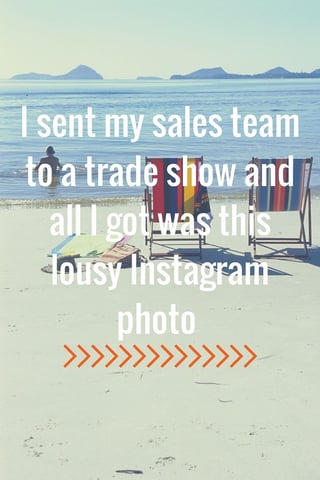 Are trade shows even relevant anymore? Are you doing something wrong? Does your whole sales team have a severe drinking problem?
(Yes. Maybe. And quite possibly.)
But just because you're not seeing the results you want doesn't mean you should give up on trade shows altogether. Instead, consider rethinking your approach to how you spend those trade show dollars.
Start with a plan
Before you send off that first exhibitor's check to the trade show powers that be, take a few days to plan out your strategy. And that includes choosing employees that you can trust to make the most of their time there. The more detailed your plan of attack, the better chance you have of actually achieving your end goals.
Clarify the Objective
Speaking of goals, be sure that you have at least one, set in stone, before anyone gets on a plane. And make sure everyone that is going to the trade show is well aware of the objective. Use the SMART goal methodology to set a goal that you can reach. This way you will be able to actually measure the success of the trade show when it's over.
Get feedback

It isn't enough to come back from Florida with a tan and expect the boss to keep footing the bill. Plan for your team to give a thorough debrief when they come back, including any leads they may have generated, recaps of any educational programming they were able to attend, and an overall impression of the show. Not only will this help you determine if you sent the right time and if your money was well spent, but can be invaluable in determining whether you should go to the same show again next year. Not to mention, when people know they're expected to report back, they're a lot more likely to make sure they have something valuable to say.
Despite the digital possibilities at our fingertips, trade shows are probably not going anywhere. In some cases, there is just no substitute for a good old fashioned hand shake and some in person networking. But you want to make sure that when you send a team to one of these pricey events, that you're actually getting your money's worth.
If you're ready to start planning for your next trade show, download our presentation below: