Lessons From HubSpot
HubSpot is at it again! They are out to show the world why they are the best digital/inbound marketing company. Of the millions of websites that exist today, they are one of the best, ranking at 557. That is an amazing accomplishment! That means that only 556 other websites in the world have greater traffic than HubSpot. Who are the websites with traffic greater than HubSpot? For starters, you have Google, which is no surprise. Then, you have Facebook. There are also several websites from China who also share a bit of that traffic. But when it comes to growing the traffic coming to your website, we can learn a lot from them. Website traffic is one thing, but what about leads and engagement? In this arena, Google does not outrank Hub Spot. In 2011, Hub Spot won a Guinness World Record for the world's largest "online marketing seminar" with over 30,000 registrants. Think of that! How would you like to have 30,000 new leads in your database? Today, Hub Spot hosted the world's largest webinar for 2014. Did they surpass the 30,000 mark? We don't know that for sure, but even if the didn't, they hyped it up and even became a trending topic on Twitter.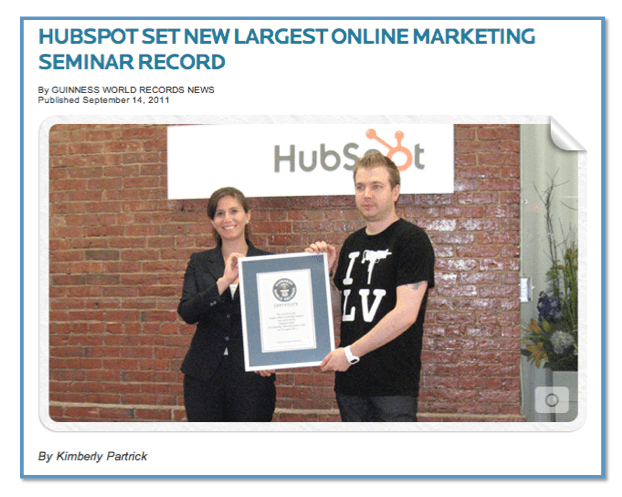 The entire ManoByte team was online to listen and engage with individuals on Twitter during this webinar. We were honored that Dan Zarrella, the Social Media Scientist at HubSpot, gave ManoByte a personal mention during the live event for being a leader in Twitter engagement. The event had representatives from Twitter, LinkedIn, and Facebook speaking including:
Jed Clevenger, Global Head of SMB Channel Marketing at Facebook
Russ Laraway, Senior SMB Director at Twitter
Scott Engelman, Head of Online Marketing at LinkedIn
Common Threads from the Social Media Greats
As I listened to the speakers from Twitter, Facebook, ad LinkedIn I noticed some common themes.
Know your audience
Post content that resonates with your audience
Visual content is best on all channels
Leverage, the targeted advertising on each platform, to gain greater reach
Funniest Tweet
My favorite tweet was from @GlenCathey who said "Did someone say #Hashtag"? Hilarious #fun w/Jimmy Fallon & Justin Timberlake http://ln.is/ow.ly/3H8zy #WLW14"