By now, you've probably realized it's ArtPrize® in West Michigan. If the traffic downtown, full parking structures, or crowds of people haven't clued you in, maybe the art all over Grand Rapids has. As a marketing agency proudly located in West Michigan, ManoByte loves to be involved in ArtPrize. The team enjoys going downtown to capture videos and photos of the action to share, but this year we wanted to take it a step further to be part of the story, instead of just reporting on it. This year ManoByte formed a team and actually entered ArtPrize!
The Process
Believe it or not, we started brainstorming and creating our own entry after the end of ArtPrize8 in 2016. What began as a, "What if?" grew into a project that involved our entire team in various stages of development. We wanted to create something accessible and engaging to all viewers that fit the inclusive spirit of ArtPrize. Everyone on staff had a role to play and special creative talents to utilize, making "Ride the Wave," what it is today. From sawing and measuring, to designing and painting, this piece is a collaboration from everyone on our team.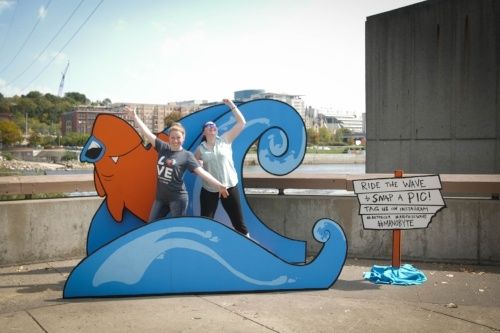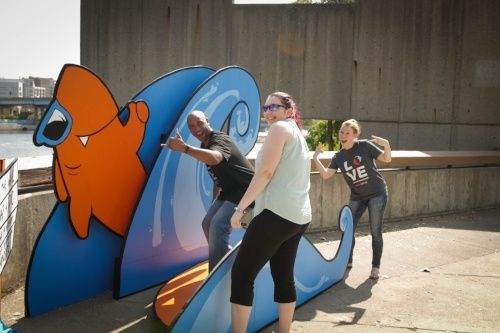 We began simply by asking, "What do we want to make?" and quickly crossed off any 2-D format art in favor of something that people can touch. Our idea snowballed into creating an experience for viewers that was shareable. We hoped to spread the fun with the community and promote connections on social media. After all, we're an inbound marketing agency, so we had to include the ability to connect on social.
After we developed a tiny mock-up of the piece to show potential venues, we began the connection period, hoping a business would want to host our piece. The connections period can be stressful for artists, but luckily for us, we snagged an amazing venue right by the river with Plante Moran.
After we had a secured venue, it was all systems go with building and constructing "Ride the Wave." We bunkered down in in the office, laying out tarp and gathering the necessary supplies to bring this piece to life. After hours of cutting, measuring, securing, and painting the piece stood a whopping seven feet tall and about ten feet long!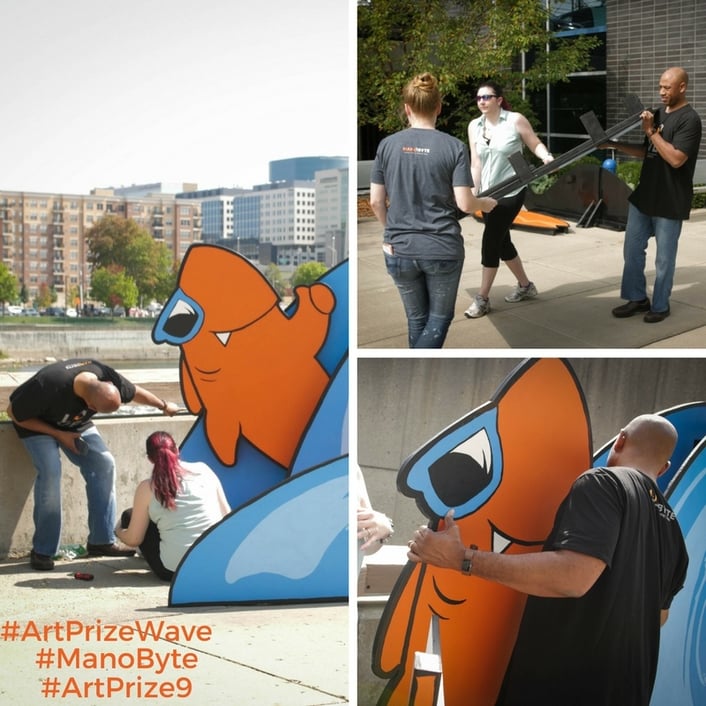 Needless to say, moving our entry was no picnic, we certainly don't envy artists who had to relocate even larger and heavier pieces. We had to rent a moving truck and play a nerve-wracking game of tetris with the pieces of our entry to get it to it's new home at Plante Moran.
Taking Risks with Marketing
While, "Ride the Wave," may not be the Mona Lisa, it represents the spirit of taking risks and going a step further than the pack. When it comes to marketing, the ability to be creative and try new things is not only a characteristic of successful agencies, but a necessary attitude that is crucial for survival in a crowded digital landscape.
Since technology and social media are always evolving, there will always be new avenues to explore with digital marketing. ManoByte may not be able to predict the future of inbound, but we can ensure sure that our team will always be exploring the new possibilities of marketing ourselves and taking part in awesome projects we believe in for our clients. Standing by old methods because, "It's the way we've always done things," or the tired, "if it ain't broke don't fix it," mentality is not helping your business thrive.
There's still time to explore ArtPrize and get inspired! Make sure to check out our piece, too, before ArtPrize 9 ends on October 8th. Here's a link to our official ArtPrize page with all of the details including the address of the venue. Don't forget to share your pictures with us on Instagram using #ArtPrizeWave, #ArtPrize9, and #ManoByte.