Visual content is becoming the way to share and engage with information online. Social networks such as Instagram, Snapchat, and Pinterest are a few of the most-popular platforms online. These networks function solely on sharing images and videos as a means of engagement. For your brand, adapting a visual content marketing strategy will allow your message to reach more consumers. But using images on social media is just the tip of the iceberg. Knowing how to format images in articles and for SEO purposes allows your brand to expand its reach beyond each network.
Text vs. Image
On average, images on social networks receive nearly 650% more engagement than posts that are text-only. Given these statistics, it is clear that images and videos better serve consumers based on how they view information online. Visual content provides a more memorable experience for the consumer and ultimately drives them towards making a purchase. In fact, 85% of consumers are more likely to make a purchase after watching a video on a product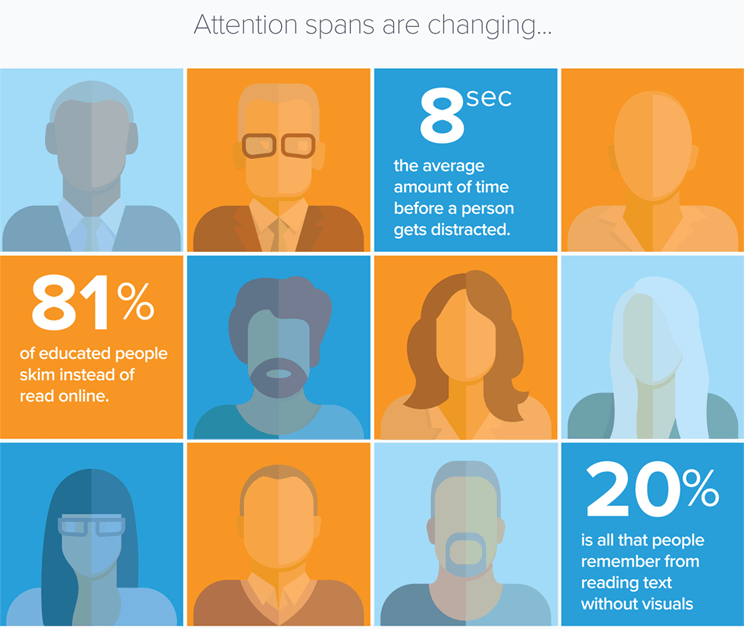 source: WebDAM
Although consumers require information at a faster rate, this does not mean that your brand should skimp on writing content. You can still provide the same information you would use in text through an image or video. This is where your marketing team will need to get creative. The content needs to be communicated efficiently and effectively through a different format. Eliminate any fluff that may come with textual information and replace it with the heart of your message. For example, if your technology company is seeking to promote its new anti-virus software, your image or video will want to focus on the main concerns consumers have regarding safety, such as cybercrime. If you can grab the consumer's attention for just a moment by using the main concern, they will be more likely to continue researching the benefits of your product.
Social Networks
In 2015, approximately 63% of social media was made up of images and nearly 66% of all social media updates were visual content.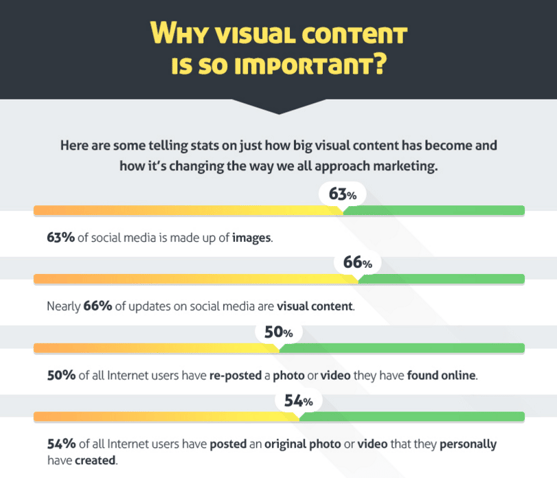 Source: quicksprout
These numbers are estimated to continue increasing over time. By 2018, it is estimated that 89% of communications will be visual and 79% of internet traffic will be video content. This data is evident by the success of video-based social networks including YouTube and Vine within the last few years.
In September 2015, Instagram celebrated a milestone: the network reached 400 million active users while Pinterest reported 100 million active users after just 5 years of existence. Following the announcement, it was revealed that the network surpassed competing network: Twitter.
How Written Content Fits In
Visual content does not extend only to social networks. To capture the attention of readers on blogs and in other content, using images appropriately can emphasize your message. Because consumers require visual stimulation, your post should be balanced between text and pictures. For instance, as a best practice, each blog post should include a feature image at the beginning of every article. This image will give your reader an idea of what to expect from the article and will ultimately allow them to decide whether the content is of interest to them.
Images should also be dispersed throughout the article as well as a means of supplementing the information. In a study conducted by the Blog Pros, the best posts analyzed had an average of one visual image for every 350 words in the article. Including images throughout allows the reader to absorb the information they read in a different way. Statistical data, for example, has a greater effect when shown on a graph.
Image Optimization for SEO
To increase overall success of visual content, you will need to ensure your images can garner SEO benefits. Including alt tags on your images will ensure your image can be captured through an internet search. Search engines cannot read images, so alt tags allow you to name and describe your image so that it can be displayed in an internet search.
To create an alt tag for an image, you will add [ alt="insert alt text" ] to your image. Considering how simplistic the term "mobile security" is, you will want to add another word or phrase to make it more descriptive which will generate better SEO visibility.
Creating a file name for the image is just as important as the alt tag because the file name is another determining factor in SEO results. Again, being descriptive with the name will ensure better results, as keeping the name too generic will get your image lost among thousands of other images.
Visual content marketing is becoming the leader in reaching consumers in a digital age. Through proper strategy of images and videos, your brand will be successful in capturing consumers on social media and online.