Today, we continue our 'Meet the Sharks' series with one of our savvy Business Growth Consultants, Kit Christie. Please enjoy learning more about her and how she helps to grow our clients' businesses through her role.
Tell us a little bit about yourself and your background:
KC: I grew up with a huge imagination and loved creative writing. I even turned my playhouse as a child into a little writing studio and tried to charge my sisters 50 cents per book. When I went on to college at Michigan State, I was planning on majoring in Journalism, but I took an advertising class and fell in love. I realized that in addition to my creative side, I also really enjoy numbers and analyzing data. I love that as a Growth Consultant at ManoByte, I can channel both of these sides. Most of my professional career thus far has been in digital advertising in Chicago, but I am now happy to be back in Michigan with my husband and our two kids, Calvin and Hazel, and our dog, Walter.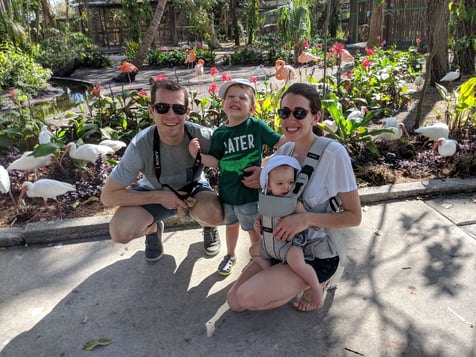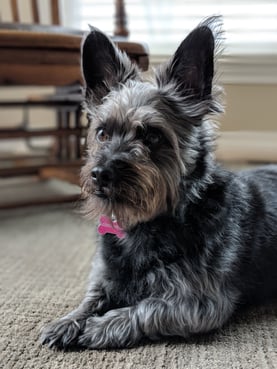 What is something people would be surprised to know about you?
KC: I used to play the trombone! I started playing in fifth grade, and continued onto high school and I even got to play in Austria. Although I stopped playing my sophomore year, my trombone continued on with my friend in the MSU Marching Band!
What exactly does a Business Growth Consultant do?
KC: The Business Growth Consultant's job is simple- to help strategize and implement plans to grow your business. We do this through a variety of services ranging from marketing strategy and campaign management to website design and customer experiences.
Tell us about what ManoByte was like when you interviewed for your job?
KC: It was very refreshing. The office has a very open and collaborative atmosphere. People were up from their desks, meeting and working from different areas of the office. I also noticed the very cool fish tank.
What is your favorite part about your job?
KC: Solving problems. I love really getting to know our client's business, what they are struggling with, what has worked and hasn't worked, and then being able to work together to come up with the best solutions to help them.
What is something you find challenging about your position?
KC: One thing that is hard with marketing today is that technology is always changing and just when you think you have figured something out, Google makes a change or a new technology emerges and you have to start all over. Luckily at ManoByte, we are very passionate about trainings and certifications to keep up with these changes!
If you could suggest just one thing companies today should be doing with their marketing, sales and growth strategies, what would you suggest?
KC: Invest in video! They say a picture is worth a thousand words, so just imagine what a video can do for you! It is the fastest growing channel and can be used in so many different aspects of your business. We love partnering with clients on video projects- check out some of our work here!
What do you think the future looks like for ManoByte?
KC: As I mentioned in my previous answer, the digital space is always changing and so is ManoByte! Things change and we learn and evolve so we are able to help business continue to grow and quickly react to these changes.
What has been your favorite project you've been a part of?
KC: I love being able to work with our creative team on website and video projects- we have a lot of very talented people on our team, and no idea is too big or crazy!
What is one thing you think business owners get wrong with their marketing, sales and customer experience processes today?
KC: Waiting for results. I think we all would love to have instant gratification with our efforts, but a lot of what we work on takes time and patience. The results may take longer, but they are more sustainable and predictable in the long run.
What do you think someone would be surprised to know about ManoByte?
KC: We all really love chocolate (I know, who doesn't?) But really, we have a container of Godiva chocolates that gets restocked on a weekly basis.
Anything else you'd like to add about your role or ManoByte?
KC: I am so thankful to have found this role, where I am doing what I love, working with talented and inspiring people and helping businesses reach their goals.
Want to meet all the Sharks?
Head on over here and click on the pictures to read more about our team of business growth experts!