We are nearing the end of our Meet the Sharks Series, and today we are pleased to introduce you to one of our newest Sharks, Julius Rogers! Julius serves as our Business Growth Representative, building relationships with companies both here in West Michigan as well as across the country who might be good partners for the ManoByte services.
Tell us a little bit about yourself and your background:
JR: I was born and raised in Flint,Michigan. I attended the University of Michigan, where I received my Bachelors of Business Administration with a focus in marketing. Shortly after graduation, my wife and I decided to shake things up a bit and move to a city neither of us knew very well. That's how we ended up in Grand Rapids! We have only been here for about 2 years now, and the city and its culture has been nothing but amazing.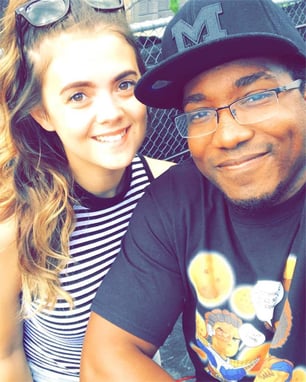 What's something people would be surprised to know about you?
JR: I am a DJ and a B-boy (breakdancer). I have been dancing for about 10 years now (wow, that's weird to say!) and I've been a DJ for about 5 years. I also have multiple affiliations with cultural hiphop associations and groups across the state of Michigan. I normally don't bring this up in conversation because it is normally followed by "show me some moves!" I would say about 9 times out of 10 I am probably not wearing my dancing pants, so the likelihood of you seeing a move on the spot is very low.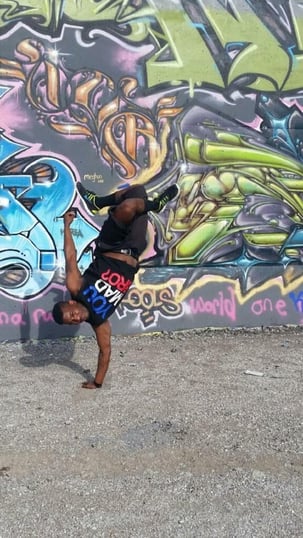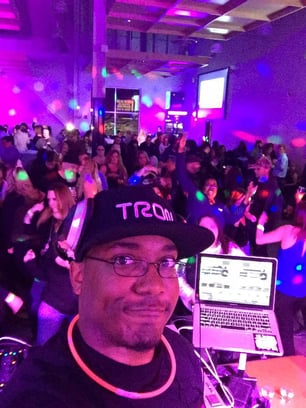 Tell us how you ended up getting into Business Development?
I graduated with a degree in marketing. Once that happened I was like a paddleboat in the middle of the Atlantic when it came to job possibilities. I've always been big into technology, I had a crisp new marketing degree in my possession, and I had about 5 years worth of sales experience under my belt. So, I decided to take advantage of sales opportunities in the Grand Rapids area. Which led me right into the front doors of ManoByte.
Tell us about how you got started with ManoByte:
JR: It was probably one of the most interesting introductions into a new position I have ever encountered. The normal (traditional) process for getting an interview with a company would be to submit a resume, and follow-up with them in hopes that they will call you for an interview a few weeks later. ManoByte caught me completely off guard. I check my LinkedIn one morning to find that ManoByte has contacted me via LinkedIn Messenger inviting me to come in for an interview. I have never been invited to interview for a job based off of my LinkedIn profile. Long story short, 1 week later I receive a job offer and the rest is history.
What exactly do you actually do as a Business Growth Representative at ManoByte?
JR: My job is to connect and meet with businesses to determine whether or not they would make a good partner for us based on the services we provide.
What is your favorite thing about working at ManoByte?
JR: The constant supply of chocolate! Just kidding (well, maybe not really. ;-) I love the fact that I get to meet new people at different businesses with different professions each day. I am very sociable, so you might catch me out at business networking events here in West Michigan. I also like that everyday around here is a little different from the day before.
What has been your favorite project you've been a part of at ManoByte?
JR: I was able to work with our video team and create the ManoByte Foosball World Cup! We had a foosball tournament to celebrate the 2018 World Cup Finals. I didn't win, though. Bummer.
Want to see our ManoByte Foosball World Cup? Follow us on Instagram here to see all the action and to find out which country was victorious!
What is your favorite thing to do when you're not at work?
JR: Mess with new gadgets, mix music, dance, and hang out with my people. I travel to dance battles with my crew all over the state of Michigan at least once a month.
What do you think people would be surprised to know about being a Business Growth Rep?
JR: As much as I am involved with the sales process here at ManoByte, I am also involved with the marketing as well. I get to create all sorts of templates, sequences, and videos through our awesome platform, HubSpot! Having the two connected makes my job 1000% easier.
Anything else you'd like to add that we haven't asked you about?
JR: I really enjoy the culture and people here at ManoByte. This company is one of the best businesses I have had the pleasure to work for, and I look forward to growing both as an individual and professional with ManoByte.
Want to meet all the ManoByte Sharks? Head on over here, click on our pictures and read all about our awesome team.