Today our "Meet the Sharks" blog series continues with the one who keeps us all together, our Operations Director, Ashley Haan!
Tell us a little more about you and your background?
AH: I have lived in Grand Rapids my whole life. I am the oldest of three kids and I am very fortunate to have my brother and sister as two of my best friends. I enjoyed playing soccer and being involved in social activities and honors art in high school. After high school, I had no idea what I wanted to do for the rest of my life so I decided to go to Grand Rapids Community College to at least get an associates degree in general education. I decided on transferring to Davenport University to pursue a degree as a Medical Assistant. Long story short, I discovered the medical field is definitely not the fit for me so I decided to take a year off of college. I started working at a restaurant as a server. At this job there was a Marketing and Events Coordinator and her position really interested me. I think it was a combination of the person in this position being unsuccessful and the fact that all of the service staff had to put in extra work to make her events successful that made me fall in love with marketing and events. So back to school I went to finally follow my passion. In 2017 I graduated from Davenport University with my BBA in Marketing.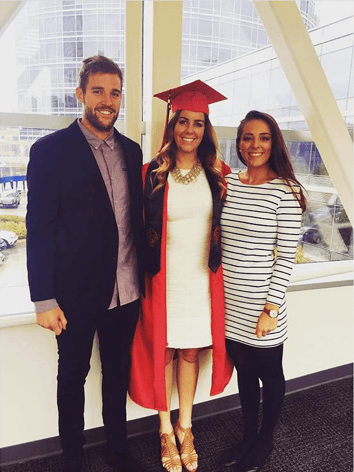 What do you like to do outside of work?
AH: Outside of working at ManoByte, I also work a couple nights a week at O'Toole's, as a bartender/server in downtown Grand Rapids. I love meeting new people and coworkers. The extra income helps pay off my student loans so it's a win for me! Outside of work, I enjoy spending time with my dog Maya and going on adventures with her. I live downtown so I really like exploring the city with friends, whether it is catching up at a local coffee shop or grabbing happy hour at one of the breweries. There's always something interesting to check out! Traveling is one of my favorite things. My favorite place I've traveled so far is Puerto Rico. It really is breathtaking. I highly suggest anyone looking for a travel destination to check it out. You get a taste of different culture without needing a passport to go there! I also really love baseball and college football. A fall Saturday spent watching or attending a football game is the best.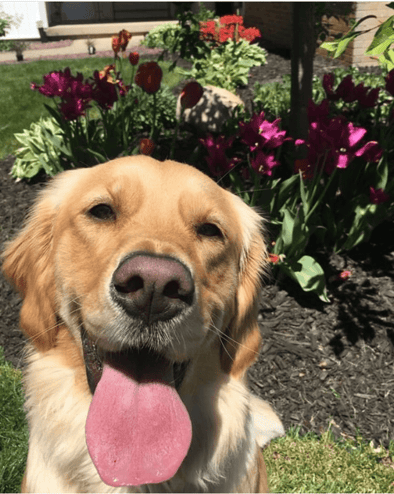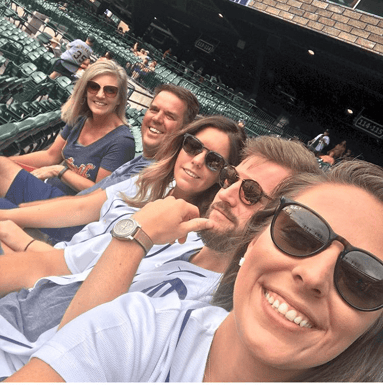 What was your interview process like with ManoByte?
AH: The interview process with ManoByte was very engaging. I wasn't sure what to expect and walked into the office and was immediately greeted by Kevin who started the interview by giving me a walk through of the office to show and explain to me the culture and environment of ManoByte. I felt really comfortable talking with Kevin about what he was looking for and how I could be an asset to this awesome company. The energy and excitement he had when he talked about ManoByte and the future of this company was contagious and I knew it was something I wanted to be a part of!
What is your job role at ManoByte?
AH: At ManoByte my job title is Operations Manager, but that generalizes the broad range of responsibilities I have. I like to explain my title as support staff for the creatives. As an agency, we are assisting clients as their Business Growth Consultants. My role is to take care of the ManoByte "SharkPit" culture. This involves general HR procedures, purchasing office supplies and planning employee events and creating engagement opportunities. Another part of my job is updating ManoByte's presence on social media with daily posts about our culture as well as sharing content and blog posts written by our staff.
What do you like best about your job?
AH: The thing I like best about my job is planning events for our employees. Whether it is employee lunches or activities, I look forward to making the people I work with enjoy coming to work for more than just their job roles. I enjoy it and I take it very seriously by always looking for new ways to encourage engagement. I also love our company Slack channel and everyone's sense of humor when sharing fun articles or photos. Also the emoji comments are hilarious!
What do you find is most challenging about your position?
AH: The most challenging part of my position for me is the part that involves taxes and HR forms. I am not an expert at this and it is still a learning experience for me. I want to make sure everything is done correctly!
What do you think someone would be surprised to know about ManoByte?
AH: I think people would be surprised to find how out how much talent our small staff has and the volume of work they produce every day. It is impressive! I think how well everyone really does get along is also surprising. Every person that works here is interesting and the culture welcomes everyone into our creative bubble.
Anything else you'd like to add about yourself or ManoByte?
AH: I have never been more committed or excited to work for a company and be a part of its growth. Waking up excited to go to work and make a difference is what I have found at ManoByte!
Want to meet the rest of the ManoByte Sharks?
Head on over to our About Page and click on our pictures to read more about our team!