Ready to learn more about our fantastic team of inbound experts? We continue our special Meet the Sharks blog series this week with our VP of Marketing & Sales, Amy Post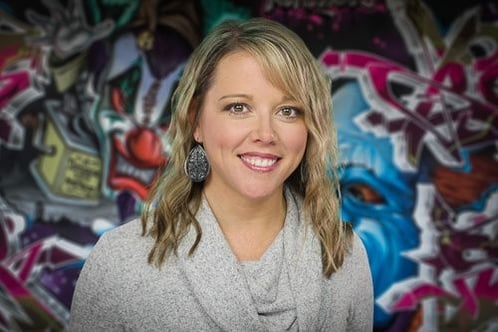 MB: Tell us a bit about your background:
AP: I'm originally from a Detroit suburb, more specifically, St. Clair Shores. I came to West Michigan to attend GVSU and loved the area, so I knew it would become my home someday. I love being close to Lake Michigan and just a couple of hours from both Traverse City (where all my family now lives) and my old stomping grounds in Detroit. I actually have my degree in broadcasting and spent a few years as a live television reporter in Pennsylvania and Ohio before moving back to Michigan and getting into content development and marketing. Lots of people ask me what my favorite story was that I covered back then, and although there were a lot of bizarre/sad/scary ones, my favorite had to be getting a 1-on-1 interview with President Barack Obama during the 2008 primary election. No matter what your opinion is on politics, I think most would agree that speaking with someone who went on to become the first African American president is pretty darn cool.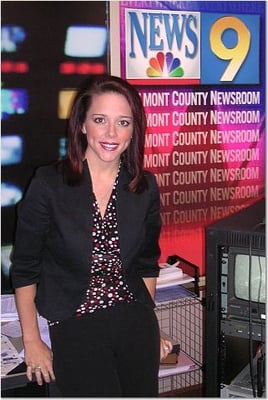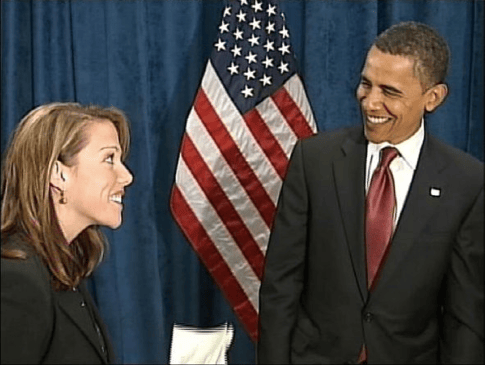 MB: What is something people would be surprised to know about you?
AP: I'm a massive talker, so most of my life isn't too big of a mystery to those who know me, but maybe that I was 4th runner up to Miss Michigan in 2006. (Yep, that's 5th place. So I wasn't really even that close if you think about it, but I have a trophy that says it, so I'll claim some bragging rights.) I try not to talk about my old days in "Pageant Land" in my professional life because of the common stereotypes attached to it, but I don't mind when I get the occasional opportunity to educate others about how different the Miss America program is from all the other, primarily beauty-based pageant systems out there. (Think Miss USA and Toddlers and Tiaras) My years of competition provided stability for me during a somewhat unstable home situation, gave me a passion for community service, and also helped me pay for some of my college education.
MB: What do you like to do outside of work?
AP: Traveling with my husband and occasionally with our kiddos, Eli and Zoe. (They were adopted from Ethiopia in 2010 and 2014) I also like to drink wine, so that requires a passion for working out. After a long day, my perfect evening includes a nice family dinner, an intense cycle class, followed by a big ol' glass of red on the porch with my husband of 12 years, Mark.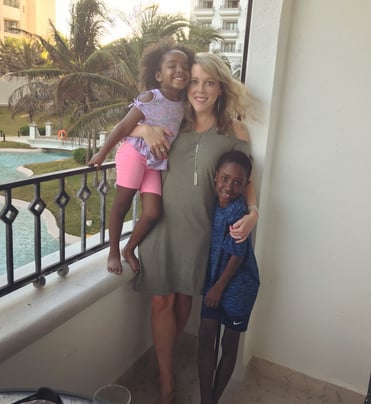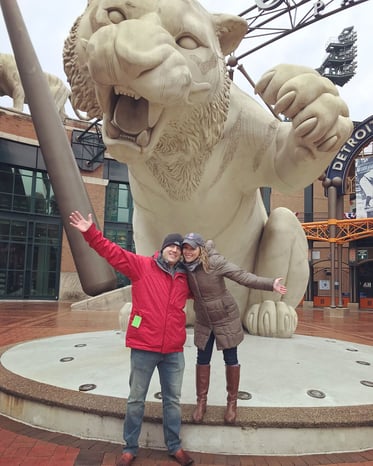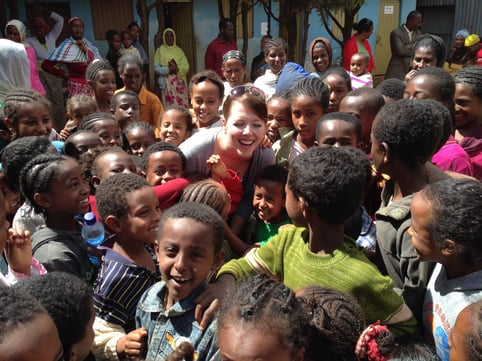 MB: What exactly do you actually do as the VP of Marketing and Sales at an inbound marketing agency?
AP: Just like we help other companies implement inbound marketing and sales strategies that work to generate growth, we need a person to do that for ManoByte as well, so I'm that lucky lady. I execute campaigns and strategies on the marketing side, then I work through the potential new business opportunities with our sales team as the leads come in from the inbound efforts. I really do love my job(s).
MB: Tell us about what ManoByte was like when you interviewed for your job?
AP: A whole lot different than interviewing with us today, that's for sure! Back in 2013, ManoByte was basically just Kevin's business. I came into the office, which was just a little 8'x10' room inside another business. During that first conversation, Kevin explained to me all about what he was doing within the digital and social media spaces and why he needed another writer. He told me the interview was basically to make sure he and I would get along with each other. I guess he thought we would, because he hired me on the spot and I started writing part-time for ManoByte the next day. I became a full-time employee about six months later. Three years later I started managing our marketing, and now I get to manage our "smarketing" efforts.
MB: What is your favorite part about your job?
AP: I'm not going to say our people, because everyone else is saying that. So, I'll go with my second favorite thing, which is our work culture. No one comes to work with the attitude that they hate their job, because it's a fun place to be. We have what I describe as a high-performing but yet relaxed atmosphere. Before being at ManoByte, I worked in a few different environments where people absolutely hated coming to work, and that become toxic very quickly. It's so much better to work at a place where people come in the door and can't wait to see what they're going to do with the day, and it's pretty much a sure thing we're going to have a few good laughs while we're doing it.
MB: What is something you find challenging about your position?
AP: Much like everyone at ManoByte, I find myself wearing a lot of hats in our business, and that can be tricky to navigate sometimes. When you manage two parts of a brand, there's a lot of elements (and meetings, and decisions) required to keep everything moving. Additionally, on a personal side, I'm a full-time working mom of two amazing kids, and my husband has a very active career as well, so that can be quite the puzzle to keep together sometimes. (Fist-bump going out to all you crazy busy mommas out there, we've got this!)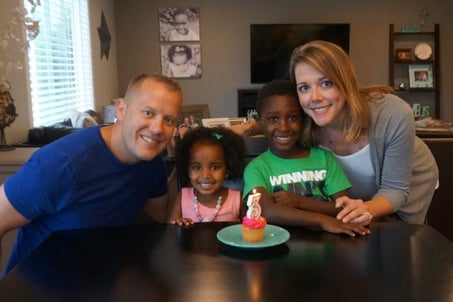 MB: If you could suggest just one thing companies today should be doing with their inbound marketing, what would you suggest?
AP: Get HubSpot to manage your marketing and sales processes. Since I'm elbows-deep in the sales and marketing at ManoByte, I see a lot of people trying to create an inbound-ish process with a bunch of low cost tools. Eventually, this approach becomes a time-consuming, cluttered mess with data scattered all over the place. Make the investment into HubSpot, it will pay off.
MB: What do you think the future looks like for ManoByte?
AP: If I were to guess right now, I'd say I see us continuing to grow our video sector of the business, implementing an account-based marketing solution for our clients, and hosting some pretty amazing marketing events in the near future.
MB: How many HubSpot certifications do you have and why do you keep getting more?
AP: I have 10 currently. I keep getting more because I need to know what I'm marketing and selling and that's the best way to do it!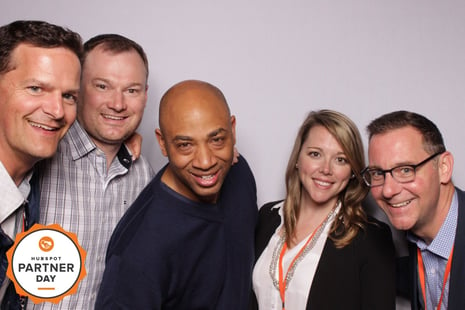 MB: What's been your favorite project you've been a part of?
AP: That's a loaded question because I've been able to be a part of a lot of great stuff from an inbound perspective over the last 5+ years. But what I think what I'm most proud of is where we are now with our own agency marketing efforts. When you live and breathe inbound marketing for your clients, it can be easy to let your own agency marketing fall by the wayside, and for several years we simply didn't have the resources to allocate toward those efforts. However, over the last two years, we've made tremendous improvements to our digital presence with new webinars, pillar content, customized workflows based on website visitor activity, all kinds of informational videos, as well as amping up the overall brand personality on our site. (Check out the brand spankin' new Home, Resources, Events, and About Us pages!)
MB: What is one thing you think business owners get wrong with their marketing?
AP: This one's easy! The biggest mistake is not allocating enough of their yearly budget towards their digital marketing and sales efforts. I'll be honest, there are so many business owners out there with champagne taste on a beer budget when it comes to their digital marketing. And guess what? Inbound processes aren't cheap, but that's because they work. We all know quality typically goes hand-in-hand with price: look down at your iPhone or Pixel for goodness' sake! If you put in the resources for top-notch inbound tools and marketing efforts, you will be rewarded with ROI you can measure and track from your investment a year from now. It takes time and money, but it's time and money well spent.
MB: What do you think someone would be surprised to know about ManoByte?
AP: We have very few men on our staff. And no, we have nothing against the male gender, that's simply how it's ended up based on the talent and experience of the applicants who've come in our doors. We laugh because we work in the technology space, so most people assume we'd have quite a few more male employees on staff.
MB: Anything else you'd like to add that we haven't asked you about?
AP: Like I said, I'm a massive talker, so I always have something to add! I'd really like to connect with anyone who reads this thing all the way to the bottom, so please reach out to me via LinkedIn right here!
Interested in checking out more of our Meet the Sharks series? Learn all about Kevin, Jeanie, Lauren, and Erin right here, and subscribe to the blog for future installments.