This week our team received some pretty exciting news from our friends over at the Grand Rapids Chamber of Commerce that we thought we should share here with our blog readers. We've been honored to be in the Top 5 Finalists for the EPIC award for Small Business of the Year with the Grand Rapids Chamber of Commerce! This is a tremendous honor to be recognized and selected among thousands of other small businesses here in Grand Rapids.
What Does This Mean?
The acronym EPIC means: Entrepreneurial. Progressive. Innovative. Collaborative.
"West Michigan has proven time and time again that we are EPIC. We are driving economic growth both regionally and statewide, and it's time to salute the local success stories and contributions that have helped create a thriving city. Each award category recognizes businesses or individuals who are leading the way in growth and innovation, strengthening our business community, enabling collaboration and connections, and accomplishing incredible endeavors with their focus on the future." - Grand Rapids Chamber of Commerce
What Happens Next?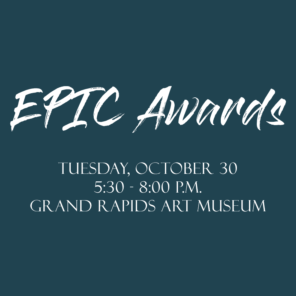 We have to do a little bit of waiting, but we are bringing the entire ManoByte team to the EPIC Awards announcement and celebration at the Grand Rapids Art Museum on Tuesday, October 30th. And although We would be honored to accept the top prize, we are truly honored to be in the final five with four other wonderful businesses from here in Grand Rapids.
Here's a complete list of all the EPIC award categories and the 2018 finalists for each:
We'd like to extend our congratulations to all the nominees in each category, and we look forward to meeting you at the event.
If you would like to join us in the celebration, you can attend the EPIC awards by clicking here and reserving a seat or a corporate table.