Disclaimer: This post contains high levels of bragging and tooting-our-own-horn, as well as lots of excitement about how geeked our entire ManoByte team is about winning a prestigious award here in our home state of Michigan!
What Exactly Did We Win?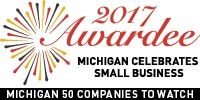 You might already know that over the last few years, we've been in massive growth mode here at ManoByte. As that growth continued, our friends over at HR Collaborative encouraged us to get involved in some award competitions that recognize the accomplishments of small businesses like ours. We agreed to give it a shot, so we started the application process with one of the most prestigious awards available for small businesses in Michigan - The Michigan 50 Companies to Watch. The 50 to Watch is an award competition led by the group at Michigan Celebrates Small Business and sponsored by organizations like the Michigan Economic Development Corporation, the Michigan Small Business Development Center, and the Small Business Association of Michigan.
Click here if you want to see the list of all the "Michigan 50 to Watch" winners
And who woulda thought, out of over 350 business nominations that were submitted, ManoByte was selected as one of the 50 companies in Michigan to receive the honor. We were selected by a panel of judges representing various areas of economic development, entrepreneurship and small business. The judges select the winners after reviewing evidence of high growth in employment rates and annual revenue. In addition to being evaluated on past growth and projected success, applicants were also judged on their unique special strengths. (Our special strengths are things like our in-house video studio and awesome work culture.)
According to the Michigan Celebrates website, award winners are an important element of Michigan's economic future:
"The 50 companies selected each year make an astounding impact on Michigan's economy by collectively providing thousands of jobs and contributing millions of dollars of revenue. In short, they tell a compelling story about the state's diverse economic landscape." -Michigan Celebrates Small Business
But What Does This Mean?
Higher prices! Haha, just kidding.
Basically, we get a pretty new award to add to our shelf, some bragging rights, and an excuse to party! (And you know that the Sharks at ManoByte love to do that.) We'll also be honored at a special celebration at the Capitol in Lansing at the beginning of May. We are bringing our entire team with us to celebrate this honor, so subscribe to this blog (you could win a $100 Amazon gift card if you sign up here before March 31st!) and follow us on Instagram to watch all the excitement unfold!
Just for fun, we made a cute little video to celebrate all things we had 50 of around the office.
A Special Thanks to Our Awesome Clients
In closing, we want to take a moment to thank our loyal customers for helping us grow in such a way that we are even eligible to receive this type of award. We are grateful to come to work each day to do the fun and fulfilling work to help grow your businesses through inbound marketing.

Cheers!
The ManoByte Team