Target Your Ideal Buyer with Inbound Service and Marketing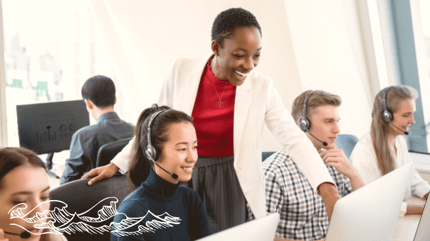 Better Serve Your Target Market with Inbound Service and Marketing
Customer Service and Marketing: more connected than what meets the eye

On the surface, marketing and customer service (CS) are two totally separate departments with their own goals and objectives. But in the digital age of hyper-informed consumers who consistently share their service experiences and peruse reviews on Google, your website, or social media, the two have never been more connected.
According to a 2021, international state of service survey of 1,400+ businesses ranging from mom-and-pop shops to corporations of 10,000+ employees, 85% of respondents agreed that customers are more likely to share their customer service experiences (for better or worse) now than in the past.
By the same note, 94% of American customers will recommend a company whose service they rate as "very good."
Once your marketing team has invested so much time, energy and resources into acquiring the customer, your service team quickly becomes the new face of the company post-purchase. This hand-off is critically important because 82% of customers prefer to take their business elsewhere after a poor customer experience (CX), and that loss can be devastating to some businesses, considering that investing in new customers is 5 to 25 times more expensive than retaining existing ones.
If you're newer to our posts, we like to note that ManoByte is a HubSpot Diamond Agency Partner, meaning that, naturally, we use HubSpot as it's best suited to meet our business needs. We're aware that there are a lot of great platform options out there, and believe it's important to understand the best platform for your business (even if that's not HubSpot!).
So, for the purposes of today's post, we'll focus on the benefits of uniting your marketing and service teams on HubSpot's Service and Marketing Hubs (built on the foundation of HubSpot's free CRM), and how this promotes a successful inbound approach that helps businesses grow better. We'll dig into how this interconnectivity supercharges your marketing efforts and further enables service teams to provide relevant and delightful CS experiences that your customers are expecting from you.
Finally, we'll look at how you can better reach and serve your target market when CS and marketing are in alignment under a single, interconnected platform, and how this open flow of communication between departments and the customer enables teams to rise to - and exceed - ever-evolving consumer needs and expectations.

Experience-Driven Marketing and Customer Service for Scaling Businesses
Successful businesses today are hyper-focused on CX and using it as leverage to continue to attract and retain customers. When your entire business (not just your CS team) is united under the customer first mentality, your CX as a whole drastically improves and cements that love that they have for you (hello, brand loyalty!).
In fact, according to Forrester research, companies who focused on experience grew 40% faster and increased customer lifetime value by more than 60% versus those who weren't.
When marketing and customer service are in total alignment, it empowers your team to initiate seamless hand-offs and coherent communication (no matter their department), which also creates a cohesive end-to-end experience that ensures your customer is met with the efficient, personalized experience they want and need - time and time again.
Inbound Customer Service, Meet Inbound Marketing


This type of customer-focused approach is built upon the foundation of the inbound methodology: Attract, Engage, Delight.
So, if inbound marketing revolves around organically attracting customers to your brand by offering relevant and helpful content that empowers them to make informed decisions about their purchases – what is inbound customer service?
According to HubSpot, inbound customer service is quite similar to inbound marketing, and built upon the same foundation of attract, engage, delight.
More specifically: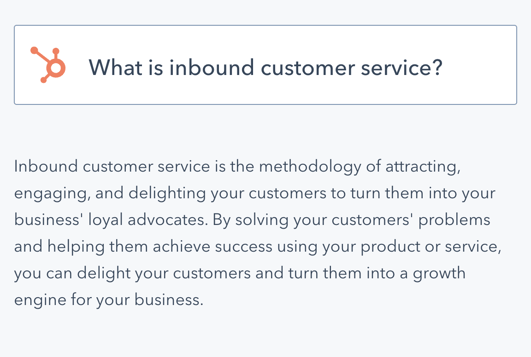 Inbound customer service looks like attracting customers based upon positive feedback and reviews from other customers and offering helpful knowledge base, blog, or other content; quickly and proactively engaging customers by offering omnichannel support options like social media, a website chat, and email; and delighting (and retaining) them with stellar service leading to 5-star reviews, and ensuring a consistently excellent CX with customer feedback surveys.
Sounds like a few things marketing might be interested in too, right?


When marketing and customer service teams are enabled to work together and can easily keep each other informed, it empowers teams to provide the proactive, relevant, and therefore helpful CX that today's customer is expecting.


Inbound Customer Service and Marketing in Action
One of the things we like most about HubSpot's customer service and marketing software tools (otherwise known as Service and Marketing "Hubs") is that they're built into HubSpot's free Customer Relationship Management (CRM) platform to ensure all teams have access to critical customer data in one, centralized location. This includes (but is certainly not limited to) any touchpoints, communication, ticket or marketing interaction history - from any department - for each individual customer. (See also the benefits of CRM-powered marketing and why it's so important.)
Not only does this single source of truth enable seamless hand-offs between teams, but it also takes the guesswork out of customer interactions, and provides a comprehensive look at where each customer stands in their lifecycle, enabling any team member from any department to address the customer with personalized, coherent communication.


Connecting Customer Service and Marketing teams looks like...
Let's say your CS team answered an incoming service call related to a specific issue with your product or service after a customer was unable to find an answer to their question in your company's knowledge base. As a best practice, your service team's first step should be proactively sending out feedback surveys after each interaction to ensure the service met customer needs and expectations. – Not only can your marketing team then come into your connected HubSpot platform and gain immediate insight into the quality of the service interaction from the customer's feedback, this also enables marketing to take any positive reviews, and use those as testimonials for future campaigns.
In the case that negative service feedback is received, it's imperative that teams promptly acknowledge the problem with an empathetic and honest apology. In the event that the feedback is in a public space like review sites, Google, or social media, it's critical to remain professional and not get defensive or clap back. Instead, take their feedback into consideration, publicly respond to their critical comment, remain empathetic and own up to the mistake. It's also helpful to ask questions about details that may be unclear and offer solutions. By taking these steps, you'll build trust with your customers and maintain brand integrity.
Similarly, when marketing can easily view service ticket history that offers insight into common customer issues and service ticket trends, it enables them to create well-informed, targeted content or campaigns that directly address the issues. By publishing a new knowledge base article, blog post, or an explanatory instagram reel (or all of the above) in response to these recurring service needs, it enables your teams to successfully support each other, which, in turn, supports your customers. – Not only will this cross-team effort make customers who already experienced the issue feel seen and acknowledged because your company is actively working to improve and resolve it for others down the line, but this proactive approach is also likely to offset call volume for your service teams as your content will have already addressed their questions and concerns.
Another primary example that this interconnectedness also helps to solve is the all-too-familiar problem of agents being unaware of marketing promotions presented by the customer during a service interaction. When a customer approaches an agent and references a promotion that the agent is clueless about, it makes your team look disjointed and unorganized, and can lead to a customer losing trust in your brand, ultimately tanking that CX you've worked so hard to perfect and protect.
Promoting Better Business Growth with Inbound
When business practices are in alignment under the inbound methodology, it keeps your customer's needs a priority and further solidifies their trust in your brand. These practices ultimately promote the self-propelling nature of the flywheel, meaning you can harness the positive energy and momentum you've created by putting your customer first - to grow your business better.

Or, as HubSpot says,

By eliminating friction between your teams and your customers, you're providing a more holistic and delightful experience to anyone who comes into contact with your business.
How knowing your target market promotes better service and helps guide your marketing


When it comes to ensuring consistently effective communication with your customer, it's also imperative to know who they are and to understand their needs. This is often established in the beginning phases of your business and often looks like asking yourself "Who is my product or service going to appeal to?" or "Who do I want to appeal to most?"

Let's say you've invented a spray that eliminates wrinkles in clothing, bedding, and other household fabrics. This item may appeal to a whole spectrum of interested buyers from homemakers and dry cleaners to traveling business professionals, and anyone in between looking for an efficient and simple solution to keep their home fabrics and outfits looking crisp. This range of potential customers gives you the freedom to target all buying groups, or, you could start with the one you feel may be the best audience, and build from there.
Pro tip: Establishing buyer personas is key to marketing effectively in today's digital landscape.
So, let's say as the owner of this iron-free wrinkle remover, you've decided to target homemakers. Equipped with best practices under the inbound framework, we know that creating relevant content is key to naturally attracting your target buyer.
What are homemakers looking for when they head to Google for a search? – Try offering tips on how to clean your home efficiently and emphasize keywords like "cleaning tips" and "saving money" to help with search inquiries for that specific topic.
Similarly, let's say you've learned that after some use, you've noticed a trend that many customers are asking questions about applications to different types of fabrics. Your marketing team could create content that outlines best practices for specific, common fabrics as a proactive tool that allows your customers to use the new product in confidence, and keep service calls at bay for your CS agents. Sound familiar?
This ability to craft tailored content that meets the needs of your target audience is possible through aligning your marketing and service teams in an easy-to-use, interconnected platform. (Thanks, HubSpot.)


Adaptability is key to successful inbound customer service and marketing
As your business grows, and customers needs and questions naturally evolve with it, you'll also want to ensure you maintain a well-designed and engaging website that houses relevant content that directly meets and addresses developing customer needs. This natural progression also requires a shift in content and keyword strategy that centers on highlighting the value and benefit of your product or service above all else. By consistently reinforcing your product's value in the current market, you ensure that potential buyers and customers continue to see the value in your product, even in the instance of fads that may otherwise make your goods obsolete or unwanted.
Doing inbound effectively means meeting your customers where they are, on their terms, and delivering consistently relevant and personalized experiences that delight them. This means your marketing and customer service strategies will require plenty of fine-tuning and adjusting depending on current consumer trends. The best inbound marketing and service strategies begin and end with a clear understanding of your target market and customer and tailoring your processes to serve their evolving needs.
In Conclusion...
Uniting your marketing and service teams on an interconnected platform built on the foundation of HubSpot's free CRM helps you gain actionable insights that ensure you're delivering the best possible service for today's customer - while also ensuring your marketing remains relevant, helpful, and effective.

So, what can putting your customer as the focal point of your marketing and service interactions do for your business?

ManoByte's team specializes in helping businesses extract the most value from their HubSpot platform, plus, we're one of HubSpot's leading Service Hub consultants and implementation experts. We help teams find the best solutions for their needs and provide in-depth training, support and consulting to help you hit the ground running and scale confidently.
Ready to Dive In?
Work with our team of HubSpot experts and watch us take clunky systems, tech stacks, websites, and portals and turn them into tailored, intelligent workflows that deliver business outcomes.