If you've ever been to a tradeshow, then you know there is nothing quite like the energy on the very first day. Especially this time of the year, with holiday lights decorating the beautiful Gaylord Palms Resort & Convention Center at #ShoreTelOne. The ManoByte team has sent five of our "Sharks, " and as you can see in the image above, we've proudly brought lots of orange all the way from Grand Rapids to Orlando, Florida! Unable to make the conference? Well, you're in luck, we're sharing our unique experience right here for ya!
Find us at ShoreTelOne
Where can you locate the ManoByte team? Booth 20 is the magic number! Did you know that we're giving away two smartwatches to guests who stop by to chat with us? (Just remember to hang on to the card we give you at the booth as it will be required to claim the prize! )
Don't worry; the ManoByte team doesn't bite, but we do love to talk about the changes inbound marketing will undergo in 2017, and how you can improve your lead generation efforts as a ShoreTel partner. We know how to make inbound thrive in your niche industry, which is why many ShoreTel providers count on us to manage their inbound campaigns and marketing efforts. We've even built a site completely dedicated to what we can do for ShoreTel partners. Find it right here.
Want more helpful information before you jump into 2017? Check out our free, comprehensive video marketing report! download it here.
What's on the Agenda at ShoreTelOne?
Besides networking with ShoreTel executives, industry analysts, our valued customers, and new partners, we have plenty to keep us busy while we're at ShoreTelOne. There will be social events, breakout sessions, cocktail parties, celebrations, and more! Check out the calendar from the ShoreTelOne website below to see all of Tuesday's activities.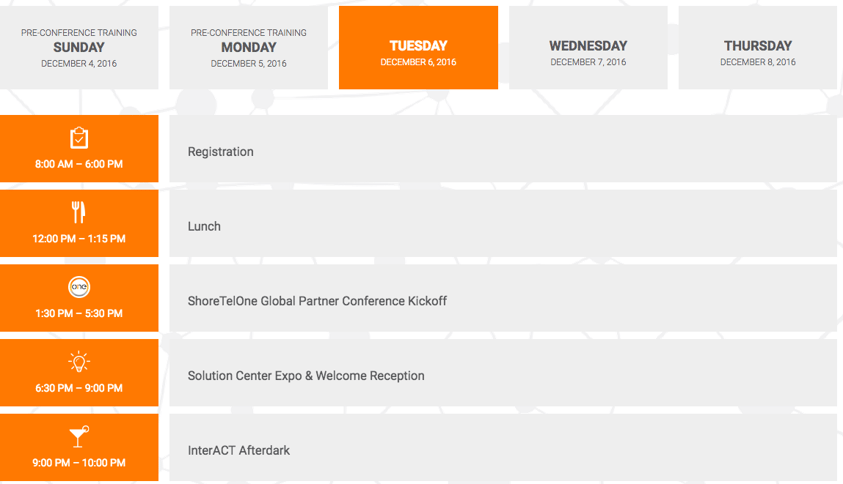 During the Solution Center Expo, guests will be able to explore ShoreTel UC technology through live demos and presentations while also learning how to increase their revenue with these offerings. This Expo boasts 40 ShoreTel Technology Partners to help attendees boost business and improve customer satisfaction. Throughout the event, there will be many more chances to learn such as listening to keynote speaker Guy Kawasaki and even the ShoreTel President and CEO, Don Joos.

As much as we love to blog about events, we have to get back to it! Follow us on Facebook, Twitter, SnapChat, and Instagram to see all of our ShoreTelOne posts. Trust me, you don't want to miss out on all of our great photos! Now we have to go put our fancy clothes on for drinks at InterACT Afterdark.

Have a great conference everyone -- Don't forget to see us at Booth #20 for your chance to win a smartwatch!