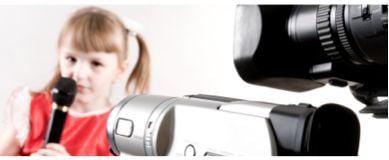 Using video as part of your social media content can be a daunting prospect at first. It may seem like a bigger project than you're willing to take on. After all, it requires some basic technical skills, equipment, a little bit of time and some creative ideas to pull the whole thing off. Still, the advantages of using video can be tremendous.
Video is an incredibly dynamic kind of media that's sure to get a lot of attention. Since many more people are accessing their social networks through their phones now, it makes sense that they're more likely to click on a video than they are to read a blog. That makes it a great alternative for delivering long form content. Most importantly, a great original video can provide a kind of access that images and text can't match. It's an exciting forum with lots of storytelling possibilities.
Feeling overwhelmed? Here are some ideas to start incorporating video into your content that are simple but effective.
Video Blogging
Think of this as a multi-media extension of your text-based blog. It's a space for you to share your expertise and a little bit about your brand's overall philosophy. You can keep it as simple as you need to, using the webcam on your laptop to film yourself wherever is most convenient. Try to vary things by changing your location, or by answering customer's questions "on air."
Crowdsource Video
Why not let your most engaged followers create video for you? Crowdsourcing can be a great way to unearth some of your customers' hidden talents. For instance, you could create a video contest with an open submission where followers create videos describing what they love about your business. It's a win win. You end up with original video content while also energizing your fan base!
Interviews
Interviews are a great way to feature staff members or loyal customers. It's a fun way to provide the kind of access that your social media followers are craving. You can tease upcoming promotions, share fun trivia and history about your company and give backstage tours of your operations. Having different guests shakes up the format and keeps your viewers coming back for more.
Choosing just one of these avenues is a great way to get started on creating original video. You don't have to be Spielberg to get your follower's attention, you just have to make sure that the content you're sharing is valuable and attractive to users. Try it out and see how your followers respond. Who knows, you may have some amateur producers in the audience who want to get involved and help you with your next endeavor.