Many companies today, (especially those in the manufacturing industry) tell us things like, " It seems like our site is just a business card sitting out there on the internet." And while a business card is still the preferred tool for your face-to-face networking opportunities, it should pale in comparison to the insane results your website is creating for you when it comes to lead generation and business growth. Today's businesses must look beyond their 'About' and 'Contact Us' pages when it comes to their digital footprint. While having those areas remain relevant for the website as a whole, today's digital landscape demands more from businesses. If you accept a status quo website, (which isn't even really the quo anymore, if we are really honest) you now risk losing customers by the masses because they are making a quick decision not to do business with you after a 2-second scroll of your website.
Get everything you need to know about optimizing your website with inbound marketing right here.
To help ensure you aren't losing those valuable viewers, here are 4 of the most important (or insanely awesome) things your website should be doing for you:
1. It Should Be Creating Leads
Flipping through the phone book and making calls just doesn't work with today's buyer, and businesses are finally starting to realize this. Leading organizations today have taken their website and leveraged it with inbound marketing strategies, so it serves as a space that uniquely identifies them as a trusted industry resource. They do this through visually-appealing and optimized resources with loads of great content in different formats, as well as easy access to connect with someone for more information. Because of this, customers who land on these inbound-leveraged sites immediately begin to get the information they need as well as develop trust during the awareness level of their buying journey. They then continue to come back to those sites for more details, leading them further down the buying process and towards a purchase. Naturally, these sites are doing most of the work to help that potential customer ultimately take the step to reach out through a landing page form or a chat box message to talk about closing the deal.
2. Showcases Your Brand, Products, and Services With Video
Think about your recent online experience where you were just poking around. You probably were viewing some videos, right? Well, that just happens to be the case for well, pretty much everyone. Your website (and social presence) should be leveraging video to connect with buyers. Whether that's a product demo, brand awareness piece or even just a short video introduction and greeting, leading businesses today know how to use video to connect with their buyers. Check out this fun little video we created this week to highlight (brag) about our recent #mi50towatch award: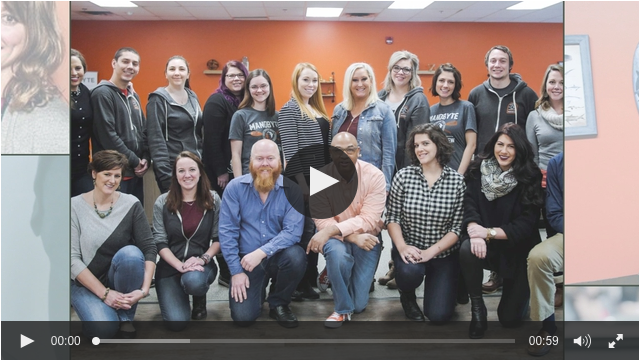 3. Establishes You as an Industry Leader
As I mentioned earlier, your website should be an epicenter of information for your potential customers. They should look to you as a solid resource for information to help them solve their problems. And this doesn't have to be solely in the form of eBooks or whitepapers; you can accomplish this through carefully-crafted blog posts and video tutorials.
4. Bridges Authentic Connections With Your Customers
"Brands that can create aspirational ways for their community to interact with them create not only social media opportunities but also the chance to move beyond likes into something lasting." -Courtney Seiter, The Psychology of Social Media: The Deep Impulses That Drive Us Online
Today's buyer isn't just looking for your product; they are looking for a partnership they can rely on to solve their problems or needs. Customers today want to humanize the companies they work with to ensure their money is going to an organization they like and trust. When you build these authentic relationships online, it also paves the path for constant referral and repeat business from those who have invested in your brand.
In conclusion, when you combine these elements together, you are using your website as more than just a spot where someone grabs your phone number. After you leverage it with effective inbound marketing strategies, you are working to establish a virtual information center that connects with your viewers and leads them toward a trusting and long-lasting relationship.