Having a beautiful, lead-generating website is great, but what if no one is getting there? For 66% of marketers improving SEO and growing their organic presence is their top inbound marketing priority. (HubSpot, 2016) If you're one of these professionals, don't worry, there are ways to increase the organic traffic to your website. Keep reading for a few best practices to boost your web traffic.

Before we dive in, organic traffic refers to people who land on your website from unpaid search results. If you're an organization or marketing team on a strict budget and can't shell out big bucks for Pay-Per-Click Campaigns, then the name of the game is organic traffic and search engine optimization.

Get Specific with KeyWords
If you're a HubSpot user, then you're likely familiar with the keywords tool, where you can see the competition for specific search terms.

You'll notice basic words like, "cellphone," and, "Marketing," have massive competition. The "big guns" are already fighting over that keyword, and it's no place you want to waste your time if your aim is organic reach. Instead, try using your persona research to identify 5 or more long-tail keywords to utilize in content for a campaign. The search volume for these long-tail keywords may not be as large as, "phone," but the audience will be more targeted and therefore more marketing-qualified.


Create Content Regularly
Once you have these long-tail keywords, use them while you're creating content like blogs, eBook, videos, etc. Did you know 72% of marketers say relevant content creation was the most effective SEO tactic? (Ascend2, 2015) Putting aside time to blog consistency is an effective way to grow our organic traffic.

Use the keyword you researched along with synonyms naturally throughout your blog or other content to help improve SEO. Don't forget to optimize the title and alt-text behind any blog images with the keyword as well. When it comes to titles, HubSpot recommends to include your keyword (as far left as possible) in the header, and keep it under 60 characters.

Building links back to your content helps improve SEO and organic traffic, but getting reliable links back is a challenge for many marketers. While you can ask people to link to your resources in an effort to collaborate, another great option is to invest in video content which has proven SEO benefits.

Creating a business video will help boost organic traffic because videos tend to get shared online more than article links. In fact, Digiday reports that videos posted to major media outlets' Facebook pages receive an average of 7 times the number of shares as article links. If you've just started blogging for your company, then you likely know blog posts sometimes need a fair amount of babysitting and promotion to get them in front of the people who will circulate them. Make sure you're applying keyword research to the title and description of your video just as much as you are with any written content.
Use AMP
AMP stands for Accelerate Mobile Pages, and it's a nifty little trick you can use for your blogging in HubSpot. Since the number of mobile searches continues to increase, applying this method can help your clients on mobile get to your content faster, which is great because slow-loading pages quickly turn web-surfers off. This increases the likelihood that your search listings will show up higher in Google since page-load speed is a ranking factor.

It's incredibly simple to enable AMP on HubSpot, simply go to content settings and then blog. Write your blog as you would normally and then scroll down for the option to enable AMP in the publishing screen like in the image below.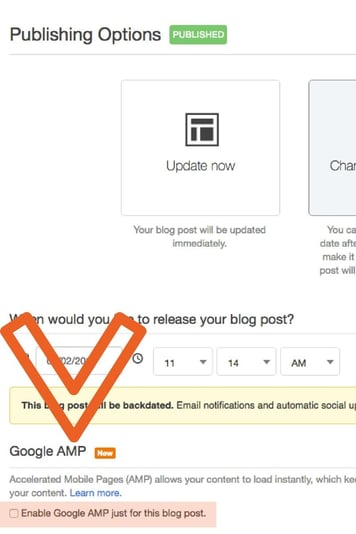 There you have it, a few best practices to help you increase your organic traffic. Remember, SEO is an ongoing and ever-changing process, so subscribe to the ManoByte blog. We will keep you up to date on Google algorithm changes and SEO tips, so your pages are ranking where you desire them to. Just click the button below to get all of the goods.
Sources: